We are proactively engaged in activities to support the development of children, who will be responsible for the future.
"Sukoyakarada project(Healthy Body Campaign)"
We started the healthier body project (We call "Sukoyakarada project") as a reconstruction assistance activity from the Great East Japan Earthquake in 2015.
This project is aimed at reducing childhood obesity, one of social issues in three prefectures of the Tohoku region (Fukushima, Miyagi and Iwate) as well as promoting health and supporting healthy mental and physical development among the children that will lead the next generation.
In FY2018, the fifth year of the project, this project was held in Higashi Matsushima City, Miyagi prefecture. At the Kick-off event on March 30, 2019 the children experienced three types of sports with top athletes, and the heath seminar was held by a medical specialist on lifestyle-related illnesses for their parents, and a nutrition education session was given soup kitchen using local ingredients. In four Follow-up sessions from April to June, the children experienced a variety of sports and help them establish healthy exercise habits.
Through this project, implemented in partnership with the Specified Nonprofit Corporation Sports We have implemented this project with SCIX, a non-profit organization called Sports Community and Intelligence. In FY2019, this project was postponed due to the COVID-19, but it is scheduled to be held in Iwate Prefecture around March 2021.
FY2018 Kick-off Event (Conducted in March 2019)
FY2018 Follow-up Programs (Conducted from April to June 2019)
Session 1: Exercise basics (run, jump, throw)

Session 2: Relay race baton-pass and long-distance running

Session 3: Para-sport competition (blind soccer)

Session 4: Spaceball experience
Educational Program on Dementia (For junior high and high school students)
The purpose of this program is for students to understand dementia as an immediate issue and acquire accurate knowledge through providing a short movie about dementia awareness produced by our company, titled "Grandma's world" and lectures given by specialists. As of the end of March 2020, more than 3,000 junior and senior high school students have participated in the program.
"Kusuri no Himitsu Manabu(Secrets of Pharmaceuticals!)" (outreach class program)
With the aim of arousing children's interest in science, our researchers have conducted outreach classes on pharmaceuticals, serving as instructors. We have carried out this program continuously since FY2015 for the sixth-grade students of Shimamoto Municipal Third Elementary School (near the Minase Research Institute). In FY2019, the program was conducted also for the sixth-grade students of Hoei Elementary School (near the Joto Plant, current Joto Pharmaceutical Product Development Center). According to the questionnaires answered by the children after the classes, they seemed to have a deeper understanding of technical ingenuity in pharmaceuticals.
It is also a valuable opportunity for our employees to realize their connection with the local communities and become motivated through communication with elementary school students.
After the classes, we gave questionnaires to the children, teachers and our employees to utilize them for reviewing future programs.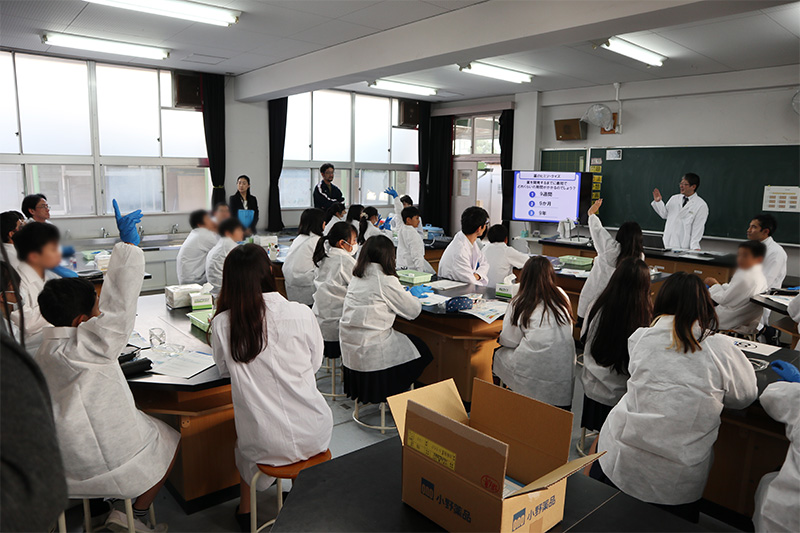 Implemented at Hoei Elementary School
Implemented at Hoei Elementary School
Implemented at Shimamoto Municipal Third Elementary School
Donation of toothbrushes
We have donated toothpaste sets and toothbrushes to children in elementary schools, kindergartens, and day care centers (A total of 9 sites) in Shimamoto-cho, Mishima County, Osaka Prefecture, where Minase Research Institute is located since FY2014. And we have donated toothpaste sets to elementary schools next to the Joto Plant (current Joto Pharmaceutical Product Development Center) in FY2018. Toothpaste sets and toothbrushes are manufactured by our company affiliate, BeBrand Medical Dental Co., Ltd. This activity is in line with the June 4 to 10th "Dental and Oral Health Week" and our desire to assist as much as possible in "Toward a world free of dental caries"In FY2019, we donated 3,366 sets and 376 toothbrushes. We continue this initiative from the perspective of sustainability, where local communities and companies coexist and develop sustainability.
Sponsoring the performance Kokoro no Gekijo (Theater of the Heart), which is performed in Kansai and hostedby the Shiki Theatre Company / Butai Geijyutu (Performing Arts) Center
We are sponsoring the performance Kokoro no Gekijo (Theare of the Heart), which is performed in Kansai and hostedby the Shiki Theater Company / Butai Geijyutu (Performing Arts) Center. Theatre of the Heart is a project to invite children (mainly elementary sixth grade students) from various regions in Japan to theaters for free and demonstrate the excitement of theater aiming to bring the most important things for people to live, such as the importance of life, the heart to consider a person, the joy to believe each other to children's heart through the performance. We understand such philosophy and support activities.
Kamome ni tobukoto wo oshieta Neko (A cat that taught gulls to fly), a family musical performed by Shiki Theatre Company
Photo by Takashi Uehara
Donations to "Kodomo Hon no mori Nakanoshima (Nakanoshima Children's Book Forest) "
We donated to a project to help stop children being away from reading "Kodomo Hon no mori Nakanoshima ". "Kodomo Hon no mori Nakanoshima" is build a library designed by the architect Tadao Andou and built in Nakanoshima Park to encourage children to pursue creativity through books and the arts/culture.